NCI Workshop Explores Liver Cancer, Which Is on Rise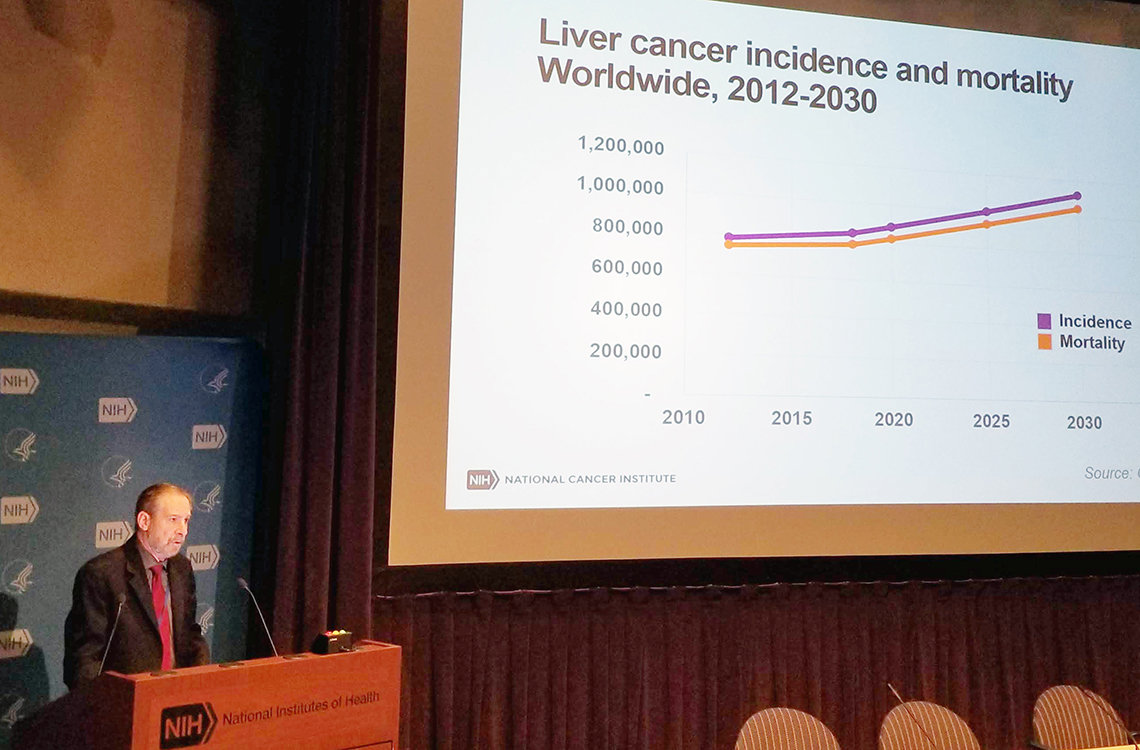 More than 150 investigators and clinicians with expertise in basic science, epidemiology, early detection and clinical research gathered at NIH recently to assess the state of the science regarding the progression of fibrosis to liver cancer. The objectives of the workshop "Liver Fibrosis to Cancer" were to understand the mechanisms and epidemiology of viral and non-viral causes of liver fibrosis and the progression to liver cancer.
In the United States, liver cancer is the second most lethal tumor. The rate of death from liver cancer increased by more than 43 percent between 2000 and 2016, and the incidence has nearly tripled in the last decade. Most liver cancers occur in patients with an underlying liver disease, mainly as a result of hepatitis B or C virus infection or alcohol abuse. However, non-viral conditions such as non-alcoholic fatty liver disease, metabolic syndrome, diabetes and obesity can amplify the risk of liver cancer and they may soon become a leading cause of liver cancer in the U.S.
NCI acting director Dr. Doug Lowy opened the meeting by detailing the scope of the problem. "The mortality rate from liver cancer has continued to increase, and you'll notice that there has been a plateauing of the incidence. I think that, with the new epidemic of hepatitis C infection, if it is left untreated, we are going to see a continuing resumption in the increase in the incidence of liver cancer." He also discussed a collaboration between NIH and CDC that is designed to address barriers to care. 
There was a special emphasis on opportunities for interventions that could combine basic research with translational research (biomarkers, reversibility of fibrosis/cirrhosis, etc.).
The final session highlighted funding opportunities, clinical trials, SEER-linked registries and other NCI resources that may be useful to the liver cancer community.—Audrey Wellons